Congratulations Daisy Shepherd on Best Poster Awards at both SER and ISCB Conferences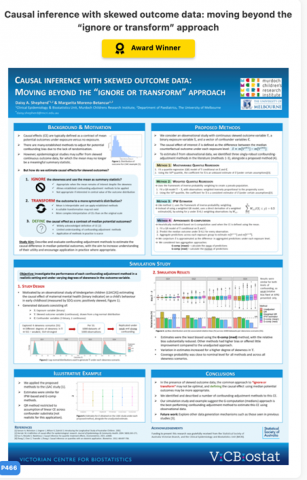 ViCBiostat postdoctoral research fellow Dr Daisy Shepherd has won awards for her poster presentation "Causal Inference with skewed outcome data: Moving beyond the 'ignore or transform' approach" at both the Society for Epidemiological Research (SER) and International Society for Clinical Biostatistics (ISCB) conferences, held in June and July 2021 respectively.
Assistant Professor of Epidemiology Dr Alex Keil, of the University of North Carolina at Chapel Hill, tweeted "clearly, #SER2021 has finally obtained the critical mass to take on the powerful big-log-transform lobby" with a twitter-handle shout-out to both Daisy and ViCBiostat Principal Investigator Dr Margarita Moreno Betancur.
Congratulations to Daisy and her collaborators on a great piece of work that has caught the attention of an international audience.
You can review the poster below.