ViCBiostat Summer School 2022 – Save the date!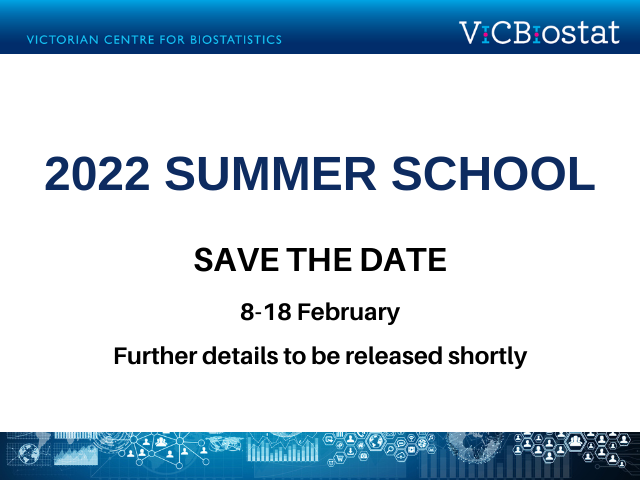 The annual ViCBiostat Summer School will once again be held online in 2022. We look forward to you joining our team, and international guest presenter Stijn Vansteelandt, for 2 weeks of half-day courses in February.
Full course descriptions and registration options will be released shortly. To be notified of updates, please check back here shortly, keep an eye on our twitter @vicbiostat, or email vicbiostat@mcri.edu.au to be added to our mailing list.
Introduction to causal inference
Tuesday 8th – Friday 11th: 1:30-5pm
Presented by: Margarita Moreno-Betancur, John Carlin, Andrew Forbes, Lyle Gurrin, Jessica Kasza, Marnie Downes, Daisy Shepherd, Ghazaleh Dashti, Koen Simons, Susan Ellul, Jiaxin Zhang
Causal mediation methods
Monday 14th: 1:30-5pm
Tuesday 15th: 1:30-6.15pm
Presented by: Margarita Moreno-Betancur, Stijn Vansteelandt, John Carlin, Ghazaleh Dashti, Marnie Downes
Network meta-analysis
Wednesday 16th and Thursday 17th: 9:30am-1pm
Presented by: Joanne McKenzie, Emily Karahalios
Risk prediction modelling
Thursday 17th and Friday 18th: 1:30-5pm
Presented by: Rory Wolfe, Damjan Vukcevic, Thao Le