PEPTIC Trial wins ACTA-STInG Excellence in Trial Statistics award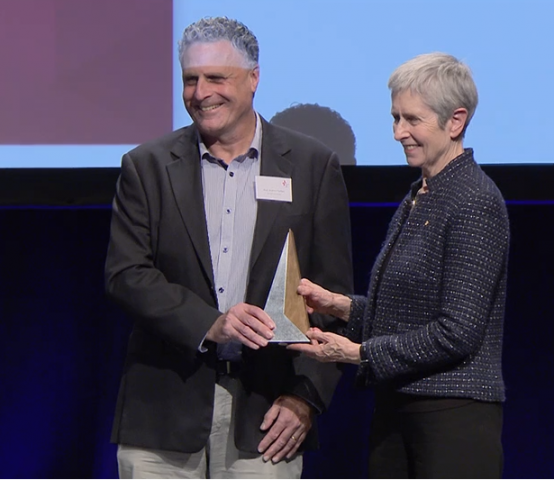 The Australian Clinical Trials Alliance (ACTA) marked International Clinical Trials Day with their National Tribute and Award Ceremony. The Proton pump inhibitor vs. histamine-2 receptor rEceptor blockers for ulcer Prophylaxis Therapy in the Intensive Care unit (PEPTIC) Trial received the ACTA-STInG (Statistics in Trials Interest Group) Excellence in Trial Statistics award, with the Trial Statistician, Prof Andrew Forbes, accepting the award on behalf of the PEPTIC trial group. The trial was also recognised as a finalist in the Trial of the Year category.
PEPTIC used an innovative cluster crossover methodology to compare two strategies for stress ulcer prophylaxis in critically ill patients admitted to ICU. Utilising registry and other routinely collected data, the trial randomised 26,982 patients from a total of 50 ICUs across Australia, Canada, New Zealand, Ireland and the United Kingdom. It was the largest clinical trial to ever be conducted in the intensive care setting, yet at a budget of only $500,000 USD, or 1/10th of a typical large critical care trial; largely because of the efficiency of the design. The trial results were published in JAMA in January 2020.
Prof Forbes developed theoretical results and simulation work for the cluster crossover design of this trial. The unique methodology has the potential to address clinical questions that were previously considered logistically or financially infeasible, and has provided the impetus for current and future research in this area of innovative trial design.
Andrew said: "In PEPTIC, it turned out that the careful stratification of sites into regional and temporal batches resulted in the trial having almost the same precision as a 27,000 patient individually randomised trial.  This in itself is quite remarkable, and indicates the value of careful planning, together of course with a healthy dose of good luck."