Congratulations to Anurika and Rob on Promotion to Senior Research Fellows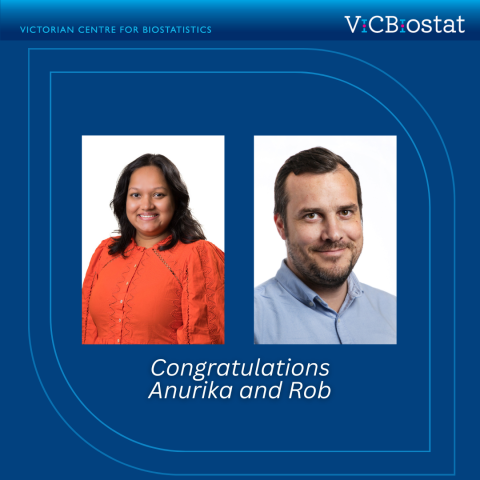 ViCBiostat is delighted to congratulate Anurika de Silva and Robert Mahar on their promotions to Senior Research Fellows.
Anurika first joined ViCBiostat as a PhD student in 2015, supervised by Julie Simpson. After completion in 2019, she has since made significant contributions to our teaching, research, and outreach activities. As the subject coordinator of the MPH Biostatistics subject, Anurika is dedicated to providing students with the best possible learning experience, and has trained and managed a wonderful team of tutors.
In research, Anurika has been extremely successful. She is a co-investigator on a NHMRC partnership grant, and the principal investigator of a UniMelb ECR grant and an AusTriM grant. She has also published many papers in top journals, including a trial published in the New England Journal of Medicine.
In addition to her research and teaching, Anurika is also a passionate advocate for STEM education. She has met with politicians in Canberra to discuss the importance of STEM, and has visited secondary schools to inspire young people to pursue careers in science.
Rob completed his PhD with John Carlin at CEBU in 2019, before commencing a joint research fellow position with MSPGH and the VCCC. In this role, he was asked to determine optimal dynamic treatment regimens for cancer. This led to him developing expertise in SMART designs and then when he moved over to MISCH and a joint position with Kate Lee at CEBU, he expanded his expertise to platform trials.
From there, Rob has quickly established national recognition in the design and analysis of these complex trials, working on many major platform trials, such as SNAP and ASCOT. He is part of a national network of statisticians working in this space and also has many PhD students advancing the methodology in this research area. Rob has also AI roles on AusTriM and a synergy grant.
We are confident that Anurika and Rob will continue to make significant contributions to ViCBiostat and the wider research community in their new roles as Senior Research Fellows. We congratulate them both on these well-deserved promotions!