3 ViCBiostat members awarded AusTriM Research Methodology Grant Scheme funding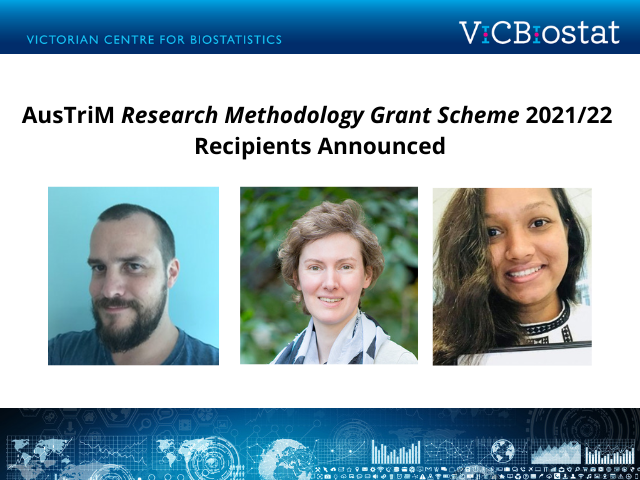 Congratulations to ViCBiostat postdoctoral researchers Robert Mahar and Anurika de Silva, and Associate Investigator Sabine Braat on their recent grant success. The AusTriM Research Methodology Grant Scheme provides researchers with seed funding to develop novel methodologies for the design and analysis of clinical trials over a one-year period.
The funded recipients, their coinvestigators, and project titles are:
Dr Robert Mahar, A/Prof Brett Manley, Dr Clare Whitehead and Prof Katherine Lee:
Using Bayesian proportional odds to model longitudinal maternal and neonatal outcomes in an adaptive platform trial.
Ms Sabine Braat, Dr Rebecca Harding, Dr Robert Mahar and Prof Julie Simpson:
Re-design of intravenous iron program for anaemia in pregnancy in low- and middle-income countries.
Dr Anurika De Silva, Ms Sabine Braat, Prof Katherine Lee and Prof Julie Simpson:
Novel methods for missing data in trials affected by COVID-19